The college is situated at very peaceful locality in Bhopal, free from all noise disturbances of traffic movement and other related metro problem. The establishment provides a cool and peaceful environment to curve the best of the student. The infrastructure involves library facilities, Laboratory facilities, Computer Facilitates and Students oriented airy and large classrooms.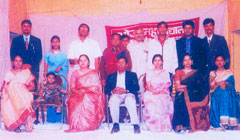 Books, Journal and Periodicals: A complete Library
Bhoj Mhavidhyalaya is having a huge library setup to backup student with an educational pushup. The library is well equipped with subject books, journals of concerned subjects and the periodicals, which proves vital in nurturing the curiosity and inquisitiveness in the student mind. The books are ranging from reference books, foreign writers and Indian writers which help student to chose his pocket of understanding and interest. The journals and periodicals keep students up to date thus to make them aware of day-to-day happening in their concerned fields. The Library setup provides cool, peaceful and student-oriented atmosphere for better understanding.